<![CDATA[
For any restaurant, sanitation should be one of the most important priorities. You are not only supposed to give your best service when it comes to the food, but the level of cleanliness is just as essential.
Running an unsanitary restaurant could lead to a myriad of food-borne diseases. In the unfortunate case that a customer gets food poisoning from your restaurant, the reputation of your business would be seriously hurt. An unsanitary restaurant would also get you into trouble with the law, resulting in hefty fines or even the closure of your restaurant.
To avoid any of these hazardous situations, here are eight critical restaurant cleaning tips to follow:
Cleaning Tip #1 – Train employees to prioritize food safety & cleanliness.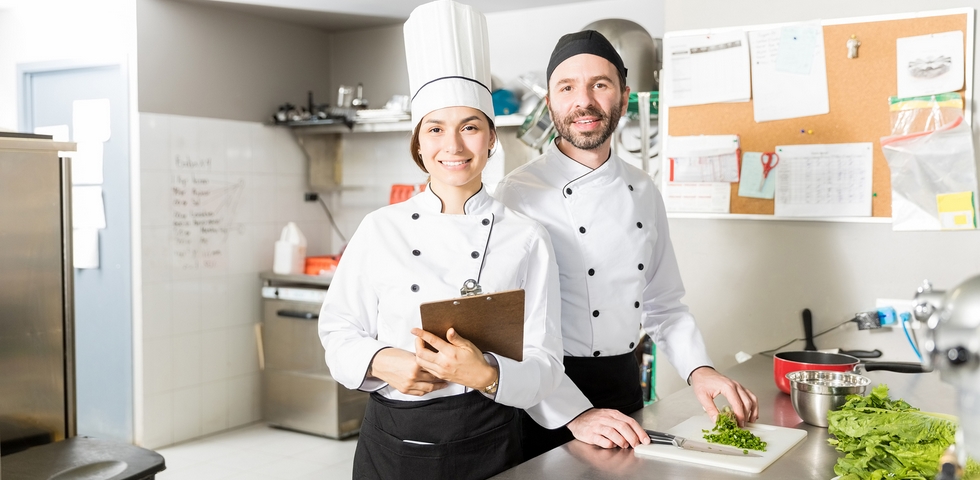 Restaurants have many people who handle food. They range from chefs to waiters. Employees should be adequately trained in proper food handling. All members of staff should know how important it is to store food at the right temperature, as if meat or dairy is being used, they can be contaminated with bacteria at the wrong temperature. With fridges from commercial refrigeration companies, staff shouldn't have to worry too much as they are highly reliable, but it's always essential to take temperature checks. They should also be trained on how to dress when in the kitchen. You do not want your customers to find strands of hair in their food.
The training ensures that employees can do the right thing at the right time. Establish simple and practical rules, such as the mandatory washing of hands after using the restroom. This ensures the food given to a customer is safe and clean for consumption.
Cleaning Tip #2 – Avoid using a mop.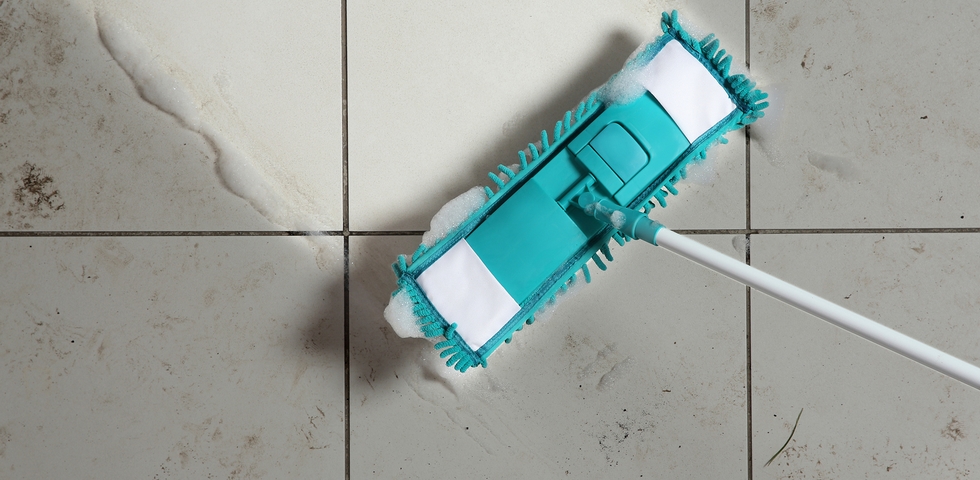 Cleaning the restaurant floors should be one of your top priorities. After all, who wants to eat in a restaurant with dirty floors?
Most restaurants rely on mops to clean floor surfaces. However, mopping does not get the job done efficiently. To the contrary, mops spread contaminants, dirt and grime around. Not only does this leave the floor surfaces looking dirty, but it may also cause slips and falls.
Cleaning Tip #3 – Prepare your restaurant for a health inspection.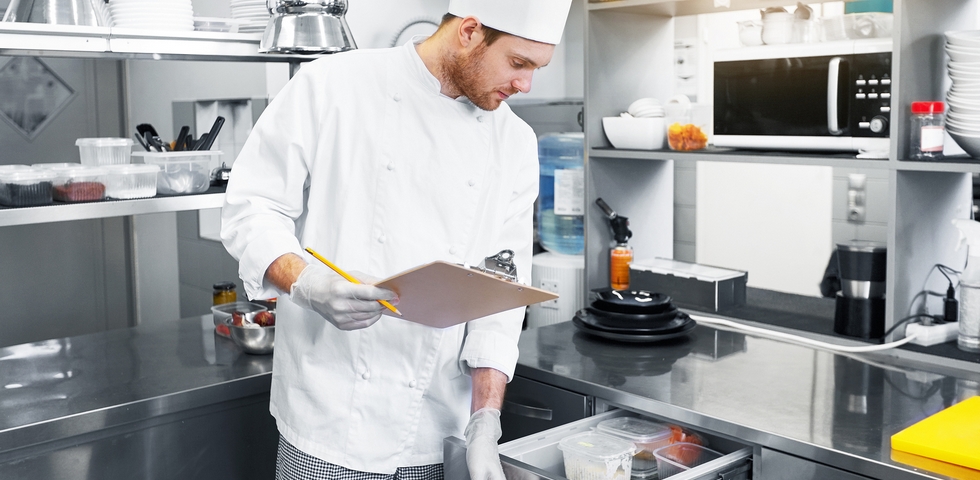 If a health inspection is carried out and your restaurant gets a bad grade, it might result in significant losses in terms of sales. So, why wait until this happens? Upgrade your health and safety standards to avoid this eventuality altogether. When you comply with the set rules and regulations, you can run your business smoothly without worrying about the health department.
Cleaning Tip #4 – Pay extra attention to the kitchen's cleanliness.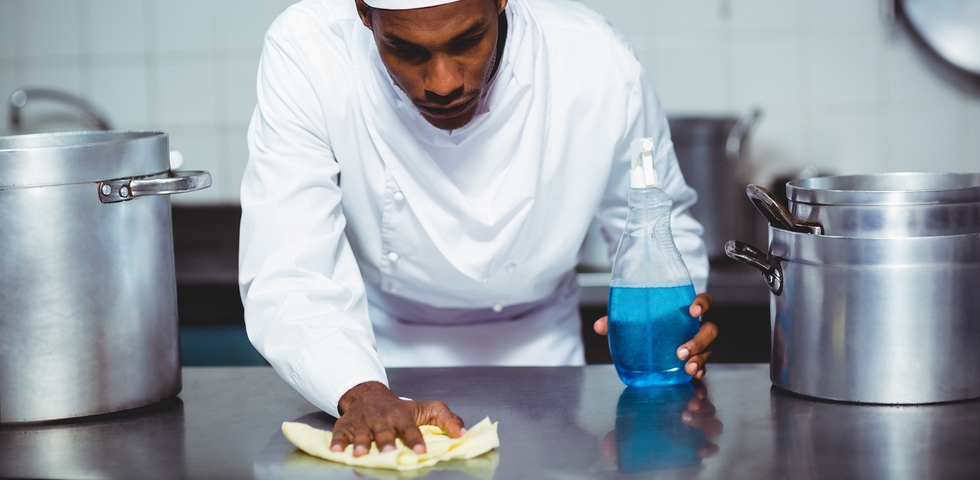 The kitchen is one of the critical areas in the restaurant. It should always be kept in a clean and pristine condition. Every equipment, surface or kitchen instrument needs to be sanitized after coming in to contact with food. This will effectively get rid of bacteria.
The health department has a list of kitchen-friendly disinfectants and sanitizers. Also, remember to store your food appropriately to prevent bacteria infestation.
Cleaning Tip #5 – Keep the restroom tidy.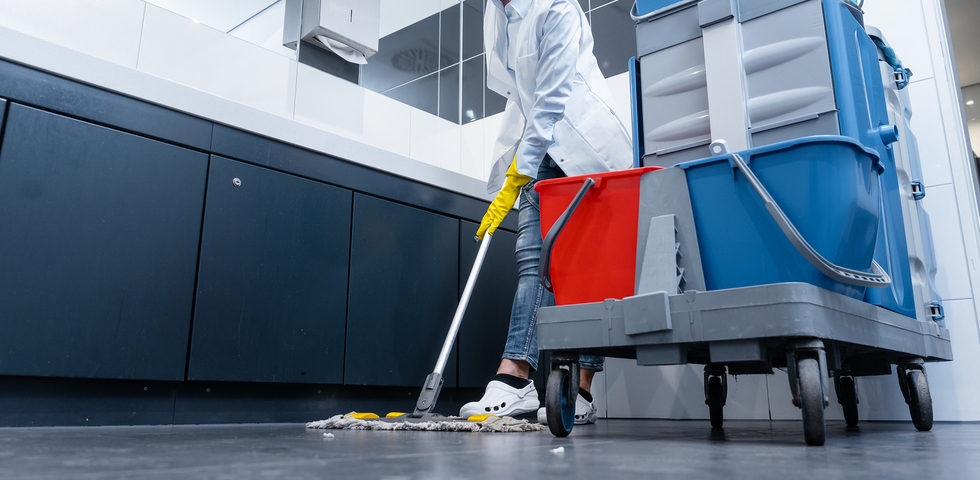 In most restaurants, both the employees and visitors share restrooms. Restrooms that are not properly cleaned may result in the cross-contamination of food products and utensils. Toilet bowls and seats, along with the floor surrounding the toilet, should be appropriately scrubbed as well.
There should also be enough soap in the dispensers, paper towels and toilet paper. Regular monitoring of the restroom is also crucial. This helps employees in dealing with sanitation issues as they arise.
Cleaning Tip #6 – Keep the dining area clean.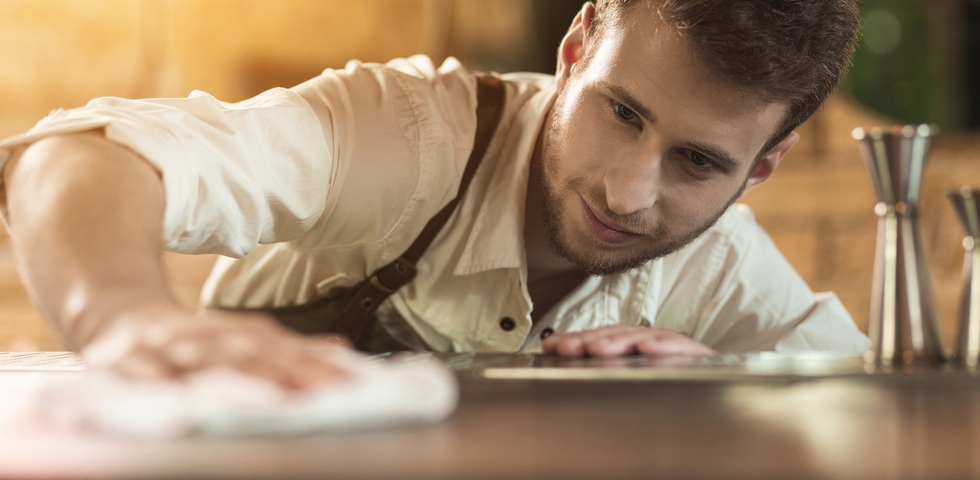 The dining area is where the customer sits as they wait or take their meals. It is vital to ensure this section is properly cleaned to avoid losing customers. Every area should be properly cleaned and sanitized, including countertops, tabletops, or chairs.
Ensure the towels are clean and avoid using them in other parts of the restaurant such as the restroom. Most restaurants forget to clean the condiment bottles and menus, which should also be appropriately cleaned and disinfected.
Cleaning Tip #7 – Staff hygiene is important.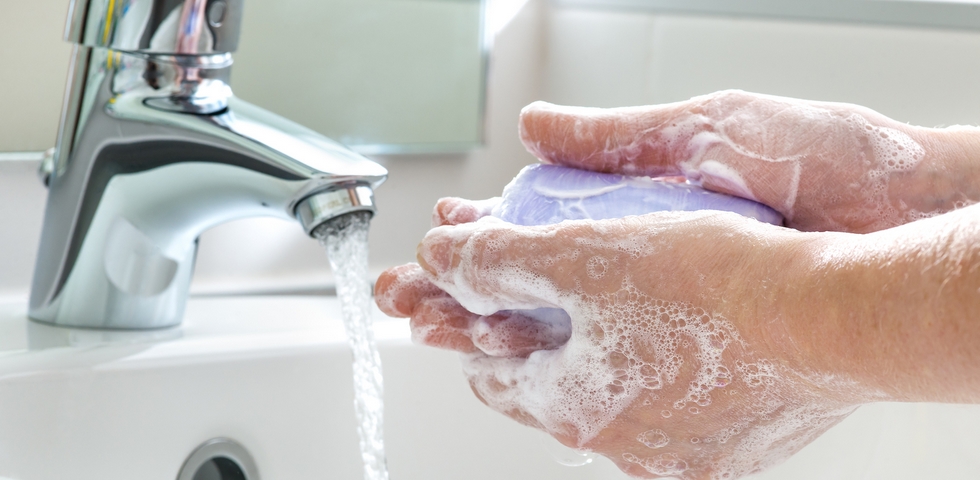 Almost all restaurants have changing rooms. Employees should report to work in their home clothes. Upon arrival at your restaurant, they should first wash their hands with antibacterial soap, tie up long hair, and wear hair nets or hats. They should also wear gloves when handling food.
Cleaning Tip #8 – Hire a professional restaurant cleaning service.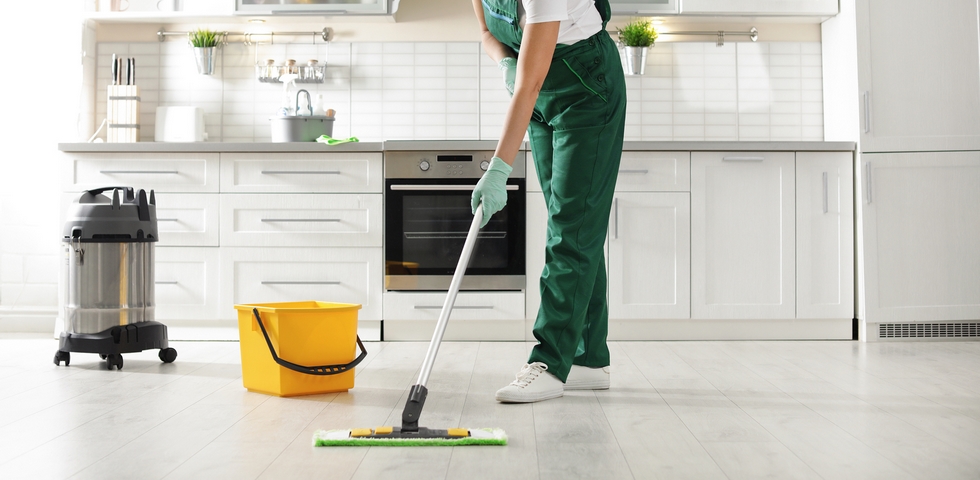 In most restaurants, cleaning is extra work for the employees. A restaurant may decide to hire cleaning services to ease the workload on their staff. This will potentially enhance employee performance. This will potentially enhance employee performance. The commercial cleaning service should have the relevant tools and supplies to get the job done the right way.
If you follow through with the above tips, your restaurant will continue to attract a horde of customers into the foreseeable future. Since the law is on your side when you uphold the highest hygiene standards, your restaurant business will remain profitable into the future.