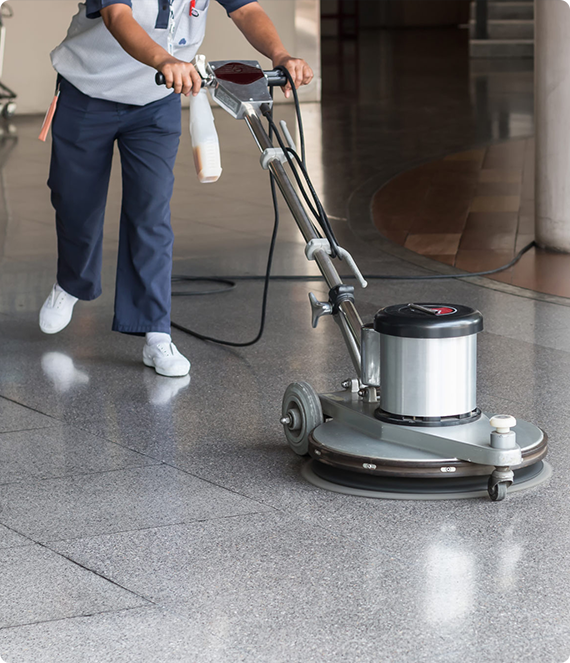 Shiny, smooth hardwood floors are great for creating company ambiance and lasting impressions. At Focus Cleaning , we offer floor waxing services and quality commercial floor cleaning in Toronto, Mississauga and the GTA area, so your floors are well-maintained, stripped of any old yellowing wax and re-waxed for high endurance.
We understand how much daily grime can accumulate during the day-to-day operations of your business. Especially in winter months where your employees and customers will unavoidably trek in icy sidewalk salt and sand.
At Focus Cleaning , we specialize in office cleaning of all floors including: hardwood, vinyl, tiles, marble, cement, ceramic tiles, rubber and terrazzo.
Contact Us
What We Do
When you hire our professional cleaning team, we ensure floors are mopped, scrubbed, buffed and varnished on-time and regularly. Not only is extra attention paid to high-traffic areas that require focused work, but we use top-of-the-line products to get out the toughest dirt. Hard floor maintenance services include:
High-Speed Buffing
Detailing
Floor Finishing
Stripping and Waxing
Auto Scrubbing
And more
We deliver superior commercial floor cleaning services to industries such as: commercial, government, medical, retail, financial, manufacturing and warehouse. Cleaning solutions are always customizable to your schedule and needs, and we work directly with the owner or operator to assure a job well-done the first time. All staff members are also screened background checked and bondable for your peace of mind.
For more information or to book a commercial floor cleaning in Toronto or Mississauga, contact us today.
Book a Consultation