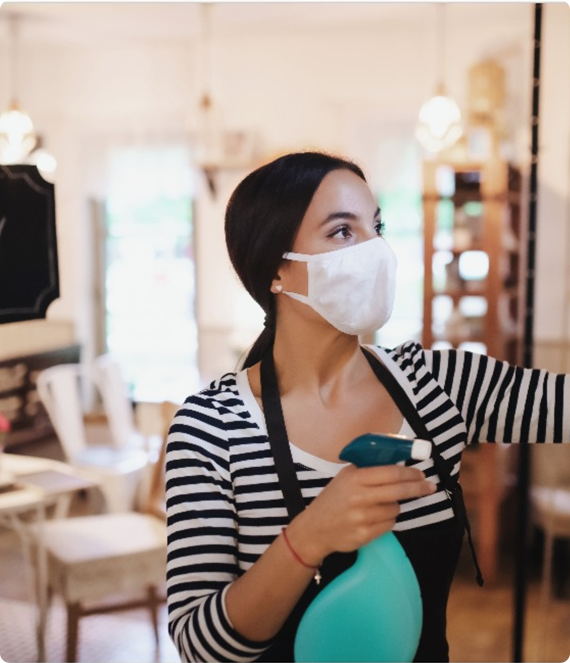 Retail spaces such as grocery stores, supermarkets, restaurants, convention centres, and shops get a lot of footfall every hour, hence, they require regular maintenance to keep the premises tidy and presentable to the customers. It is always about maintaining a consistent appearance, as customers always prefer clean environment and it translates through to quality. For this reason, it becomes very critical that your business maintains a high standard. Focus Cleaning will provide you top notch retail cleaning services on a very efficient manner, while your employees can focus on their core work, and work towards the organization's productivity.
Our retail cleaning services adhere to all the industry specific standards as well as government standards. If you are an owner or a manager of a retail business, you will definitely understand the hardship and efforts that go into ensuring and maintaining those standards. Thus you should expect nothing less from your cleaning company. Focus Building Maintenance offers commercial cleaning services for all types of businesses. All our employees are very well-trained and will strive to make you realize their exemplary services every time.
Contact Us
Retail Cleaning
Focus Cleaning operates in the GTA and York region providing services to commercial and industrial businesses. Big or small, Focus Cleaning will ensure that customers are satisfied and the highest quality standards are maintained at all times.
Our Retail Cleaning Services
Entrance
Doors
Door Knobs
Glass
Floors
Corners
Ledges
Signboards
Main Store Area
Shelves
Table tops
Hangers
Floors
Ceilings
Walls
Fixtures
Corners
Ledges
Waste bins
Vents
Display units
Display Window
Glass
Fixtures
Floor
Corners
Walls
Ceiling
Display units
Storeroom
Racks
Floors
Ceilings
Walls
Vents
Washrooms (WC)
Toilet seat
Toilet base (In/Out)
Hand soap dispensers
Hand tissues
Towels/Dryers
Toilet rolls
Mirrors
Washbasins (sinks)
Countertops
Faucets
Urinals
Floors
Partitions
Changing rooms
Lockers
Baseboards
Ledges
Corners
Drains
Garbage bins
Walls
Vents
Ceilings
Drains
Doors
Door knobs
Billing Counter
Countertops
PCs
Phones
Chairs
Floors
Walls
Ledges
Corners
Vents
Light fixtures
Waste bins
Shredder
Changing/Trial Rooms
Floors
Light fixtures
Doors
Door knobs
Walls
Hangers
Corners