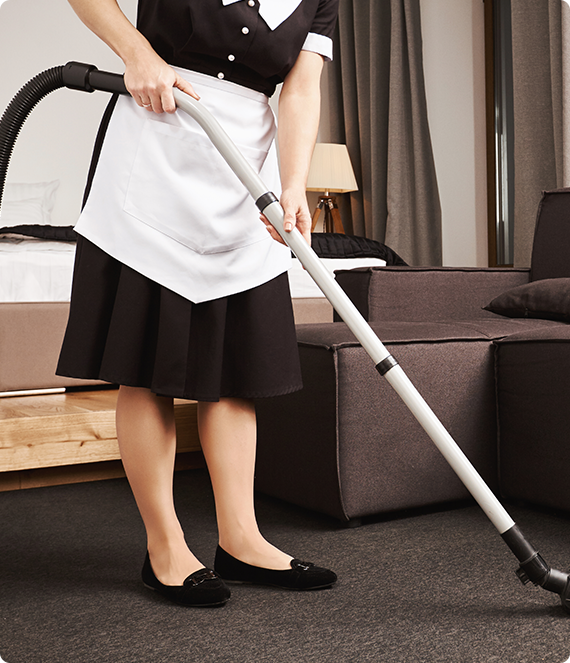 As a hotel owner, the most important aspect of getting guest buy-in is through cleanliness. The reputation of the hotel hinges on this, and even a small issue with respect to cleanliness creates a nightmare to owners. Hence it is very important to have reliable service providers when it comes maintaining a clean premises and maintenance services.
Focus Cleaning ensures that the hotel is free of germs and dust, and can customize services based on the request of the hotel (daily, weekly, monthly, etc.). Focus Cleaning ensures that the hotel remains hygienic and the guests feel the high standards the hotel maintains. Not only does this create benefits to the guests, it also helps in increasing the lifetime of the property and fittings. Focus Cleaning will use different methods of cleaning and tools depending on the surfaces, the fittings, the size, the shape, etc. We also specialize in carpet cleaning and hard floor care including stripping and waxing and marble maintenance and restoration. You will be completely satisfied with the results we provide.
Contact Us
Areas We Clean
Room Flipping
Making beds
Washrooms
Common areas
Laundry
Detailed Dusting
Windows and Blinds
Replenish washroom supplies
Dusting of light fixtures and artwork
If you think that hotel cleaning is only for the benefit of the guest, then you are wrong. In fact, by maintaining it clean all the time, the life of the property, as well as the things in it, would be prolonged. The rooms of the hotel are not the only ones that need a thorough cleaning, for the entire hotel needs proper cleaning. Besides, there are different methods of cleaning it, and it also depends on what kind of surface is required to be cleaned. The one doing it should also have the right tools and equipment to get the job done right.
Book a Consultation
Clubhouse Cleaning Services
Badminton court and Viewing gallery
Dry mop courts
Wet mop floor when needed
Empty trash cans
Collect badminton birds as needed
Wipe and disinfect furniture
Collect and replenish towels
Vacuum Carpet
Clean desk, monitor, telephone
Clean door and windows
Breakwater
Dry mop courts
Wet mop floor when needed
Empty trash cans
Wipe and disinfect furniture
Replace mats to wall
Collect towels
Vacuum carpet in office
Clean desk, monitor, telephone
Clean doors and windows
Return balls to bin
Washrooms
Clean toilet, sink, mirror
Restock supplies as needed
Wet mop floor
Pick up garbage
Scrub floor (monthly)
Hallway
Vacuum carpet, dust furniture
Clean window edges
Empty garbage and recycling bins
Water fountain
Clean, wipe and disinfectant
Staircase
Vacuum carpeted stairs
Clean glass panels
Clean stainless steel railings
Elevator
Clean and wipe fingerprints
Vacuum floor as needed
Ground floor hallway
Vacuum carpet, cocoa matting, dust furniture
Clean/dust window edges
Empty garbage and recycling bins
Clean glass doors and windows
Dusting
Racquets Office
Vacuum carpet
Dust tables
Empty garbage
Ladies locker room
Scrub showers with appropriate soap, brush
Sauna: Wash floors, walls, ceilings then rinse and clean containers, benches with designated disinfectant soap
Steam room: Scrub, wash floors and walls
Clean ventilation grills
Men's locker room
Scrub showers with appropriate soap, brush
Sauna: Wash floors, walls, ceilings then rinse and clean containers, benches with designated disinfectant soap
Steam room: Scrub, wash floors and walls
Clean ventilation grills
Family/Boys/Girls (Friday's)
Scrub showers with appropriate soap, brush
Vacuum carpet
Scrub floor (monthly)
Clean ventilation grills