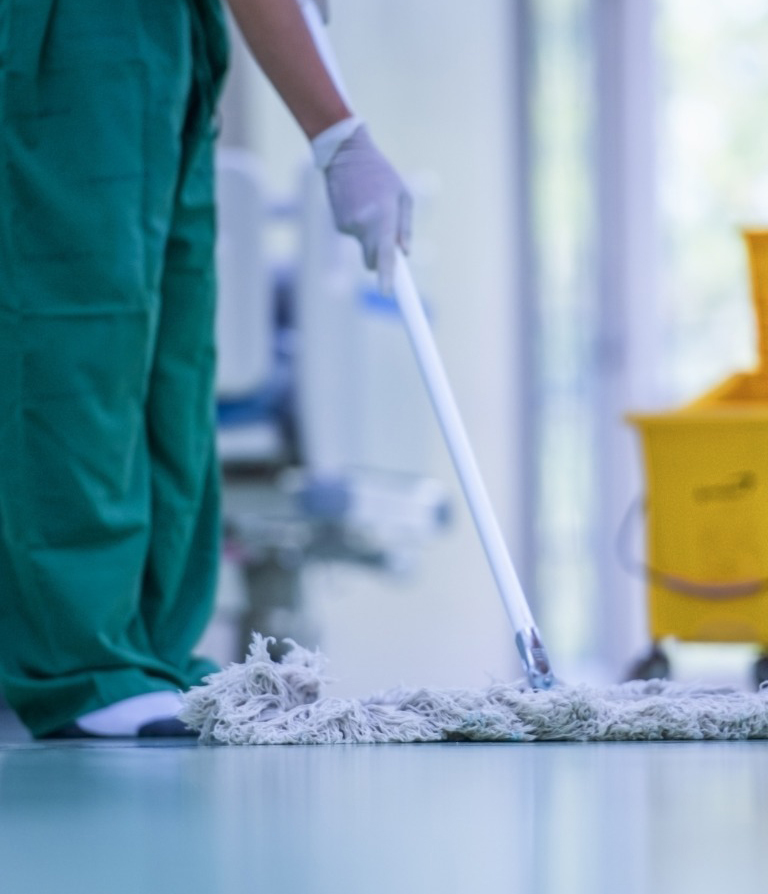 Cleaning for a Medical Office Requires a Commercial Cleaning Company with Experience. Not just any Canadian janitorial service can take on medical office cleaning jobs. Unlike Janitorial cleaning for other kinds of offices and buildings, Healthcare facility cleaning and medical office cleaning require specialized training and equipment in order to be done right.
Focus Cleaning takes cleanliness and maintaining quality standards seriously, as these premises have hundreds and thousands of visitors every day, and they visit the premises for health reasons. Hence, a professional cleaning services provided like Focus Cleaning becomes a core part of the services, as we can customize our offering to any situation and need.  Our doctor's office cleaning services are certified and insured, and we employ highly trained professionals who strive to maintain the safety and quality standards of your practice.
Focus Cleaning offers high-end doctor/dental office cleaning services in Toronto and the Greater Toronto Area. We have cleaners ready for action in Markham, Richmond Hill, Thornhill, Newmarket, Vaughan, Aurora, Brampton, Mississauga, Oakville, Burlington, and other Southern parts of Ontario.
Contact Us
High Risk Areas
Operating Theatres (OTs)
CATH Lab
C.T.V.S
Post-Operating Units
MICU
NICU
CCU
Recovery Unit
Medium Risk Areas
Examination rooms
Procedure rooms
Consultation rooms
In-Patient rooms
Blood Bank
Labs
Low Risk Areas
Public areas
Waiting areas
Corridors
Basement
Staircases
Elevators
Common washrooms
Mortuary
MRI
MRD Nursing Station
Hospital Cleaning Services
High Risk Areas
Remove all soiled linen and garbage
Possibly remove or keep aside machine and instruments
Sweeping clean the entire area
Damp dusting the entire area
Scrub thoroughly with disinfectant solution
Disinfect the entire area including walls floor, tiles and skirting with disinfectant solution
Arrange the machines and instruments in their respective places
Re-dusting the area with disinfectant solution
Every night sterile and sub-sterile areas to get thoroughly washed and scrubbed with disinfectant solution to ensure a completely disinfected area
Maintenance to be checked and written information to be given to Engg. Department
Operation Theatre
As soon as a case is finished soiled linen will be taken out
Pick any disposable items if lying on the floor and put into the colored bins as per norms
Garbage will be removed from the O.T.
Switch off all electrical supplies
Clean the O.T. floor with detergent solution
Scrub the walls, tiles, O.T. tables, etc. with disinfectant solution
Finally mop the floor with 1% sodium hypochlorite solution
CATH Lab
Remove all soiled linen and garbage
Damp dust the entire area with disinfectant solution
Vacuum clean the entire area especially the corners and edges
Door edges, A/c grill, ducts etc.
Spot cleaning for removal of stains
Wet mop of the entire floor with hypochlorite solution
Maintenance to be checked and follow up for rectification and jobs
Thorough cleaning should be followed once in a week as per weekly O.T. Cleaning protocol
Medium Risk Areas
Remove all garbage from the dustbins
Remove all used linen from the room
Dust the entire area with a damp cloth or when necessary with an appropriate solution
Sweeping the entire area
Mop the floor with detergent solution
Scrubbing of the rooms on weekly basis with detergent
Thorough cleaning of the rooms to be done once in a week
Maintenance to be noted and written information to be given
Low Risk Areas
Remove all garbage from the dustbins
Dust the entire area with a damp cloth or when necessary with an appropriate solution
Sweeping the entire area. Use dust control mop for sweeping in corridor throughout the shift
Mop the floor with detergent solution
Scrubbing of the above mentioned areas to be done daily basis
Maintenances to be noted and written information to be given
Elevator Cleaning
Take the elevator to a non-patient, non-public floor for cleaning and stop the elevator
Remove the light diffusers (once in a week) carefully, remove the dust from the channels and clean the wall and ceiling with damp cloth soaked in bacillocid solution. Wipe dry to prevent streaking and replace
Clean the floor with cleaning solution
Mop the floor with sodium hypochlorite solution
Polish the steel wall with steel polish, once in a week
Staircase Cleaning
Dusting of staircase railing
Sweeping with feather brush, corner cleaning weekly
Pay attention to hand marks, smudges, snuffs, on the railing glass panels.  Finally, mop the floor
Report any maintenance to the supervisor immediately
Hourly mopping / touch up with hand mop to be given to maintain it. Scrubbing with Detergent in daily basis in night shift
Outer Areas
Pick up the things around the hospital premises in the morning
Smooth sweeping of heavy traffic area including emergency, IPD, OPD and parking area. Front area has to be done first
Once area is thoroughly cleaned, touch-ups to be given to the heavy traffic areas till the evening
Every Saturday thorough washing of outer area to be done in the evening
Window Cleaning
Prepare window cleaning solution
Place window brush into solution
Apply solution to window surface using 'S' strokes
Use squeeze, starting at bottom corner and working upward along outside edge, across scrubbed window nylon scrubber
Remove any solution remaining on the window frames or ledges with clean cloth
Clean equipment and store properly
Some area may require the use of a glass scrapper to remove tough stains
Washroom Cleaning
Remove garbage
Clean toilet bowls from inside and outside
Clean seat cover free of spots and stains
Clean plumbing fixtures
Clean counter shelf behind W/C seat (No dust, stain and finger marks )
Clean sink inside/outside, underneath, chrome fixture to be functional/free from spot of water marks
Clean mirror (No water marks, frame edges clean)
Clean tube above mirror